Boasting one of the highest malt contents in the blended whiskey category at 46%, Grace O'Malley uses double-distilled and triple-distilled Whiskey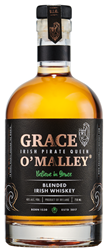 NEW YORK (PRWEB) APRIL 28, 2020
Grace O'Malley, Ireland's premium whiskey and spirits brand is proud to announce the launch of their flagship whiskey, Grace O'Malley Blended Irish Whiskey into the U.S. market. Honored to be the first Irish whiskey named after a woman, Grace O'Malley Blended Irish Whiskey is dedicated to the legendary 16th Century Irish Pirate Queen. In addition to whiskey, consumers can also experience a taste of Ireland with Grace O'Malley's handcrafted Heather Infused Irish Gin.
"We are very excited to share the story of Grace O'Malley with the U.S. market through our premium whiskeys. Far from ordinary like the whiskey itself, Grace O'Malley was a fearless seafarer who broke with the conventions of her time," said Stephen Cope, Founder and Managing Director of Grace O'Malley Spirits.
Boasting one of the highest malt contents in the blended whiskey category at 46%, Grace O'Malley's premium whiskey excites the senses and provides a smooth complexity never before tasted. Each of Grace O'Malley's fine spirits are distilled at The Great Northern Distillery. It is in this center of whiskey excellence that Grace O'Malley's Master Blender, Paul Caris, together with Master Distillers of The Great Northern Distillery bring the magic to Grace O'Malley Whiskey from distilling to blending and cask management. Paul Caris, former winemaker and Bordeaux-Native, brings an impeccable palate and years of experience to Grace O'Malley as Master Blender.
"We are honored to be working with Paul Caris and the passion, curiosity, and knowledge he brings to the Grace O'Malley premium spirits portfolio as our Master Blender," added Cope.
This special blend combines whiskies with age statements that range from three to ten years old. Each batch of whiskey is then matured in a range of barrels, including French Oak, ex-Bourbon, and ex-Rum casks, hand-selected by Master Blender, Paul Caris. The resulting blend delivers a whiskey perfectly balanced between flavor, age character, complexity, and smoothness.
The suggested retail price (SRP) for Grace O'Malley Blended Irish Whiskey is $36.99 and $36.99 for the Heather Infused Irish Gin. Grace O'Malley Spirits are widely distributed in Europe and currently imported in the U.S. by MHW. Grace O'Malley Whiskey is now available at leading off-premise accounts in the U.S. including Simply Wine in New York City with information available on SevenFifty. From the west coast of Ireland to rebel hearts around the world: visit http://graceomalleywhiskey.com for more information and join the conversation at @graceomalleyspirits.